February 8, 2020
Human Trafficking is the face of Modern Day Slavery today.
On January 2015, Pope Francis, on the World Day of Peace called us to take action against trafficked women, children and men all over the world so that they are:
No longer Slaves, but Brothers and Sisters in Christ.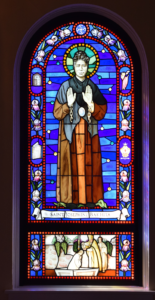 Pope Francis has chosen 8 February, the feast of St. Josephine Bakhita who is the patron saint of Sudan and victims of slavery, to be a day of prayer, reflection and action. Born in Sudan, Josephine knew the sorrow of losing her freedom and family. She was kidnapped at the age of seven and was sold many times, before being freed and becoming a Canossian sister.
Today, the United Nations estimates that one in every three victims of trafficking is a child. Slavery has existed for thousands of years but economic and social forces have seen an alarming resurgence in the past few decades. Modern slaves are cheap and disposable, purchased and thrown away
Slavery flows into our homes, offices and schools through the many products we purchase. As members of the Global Community we are consumers, unwittingly contributing to slavery. Have you ever stopped to consider that what you are wearing is at the cost of someone else's misery? We can stop this terrible offence of human dignity by buying Fairtrade and UTZ Certified and Rainforest chocolates. We can also make a difference by purchasing Australian caught and responsibly sourced seafood such as MSC and WWF labelled seafood.
Sr Margaret Ng rsj
You're invited to read about Sr Margaret's ministry below:
Josephite Counter-Trafficking Project
Provided below is prayer you can use for the International Day of Prayer and Awareness Against Human Trafficking (8 February):
2020 Prayer – Together Against Trafficking (PDF)
Photo: Stained Glass of St. Josephine Bakhita, Saint John Paul II Chapel, Mundelein taken by Fr. Gaurav Shroff obtained from flickr. (CC BY-NC-ND 2.0)