November 8, 2023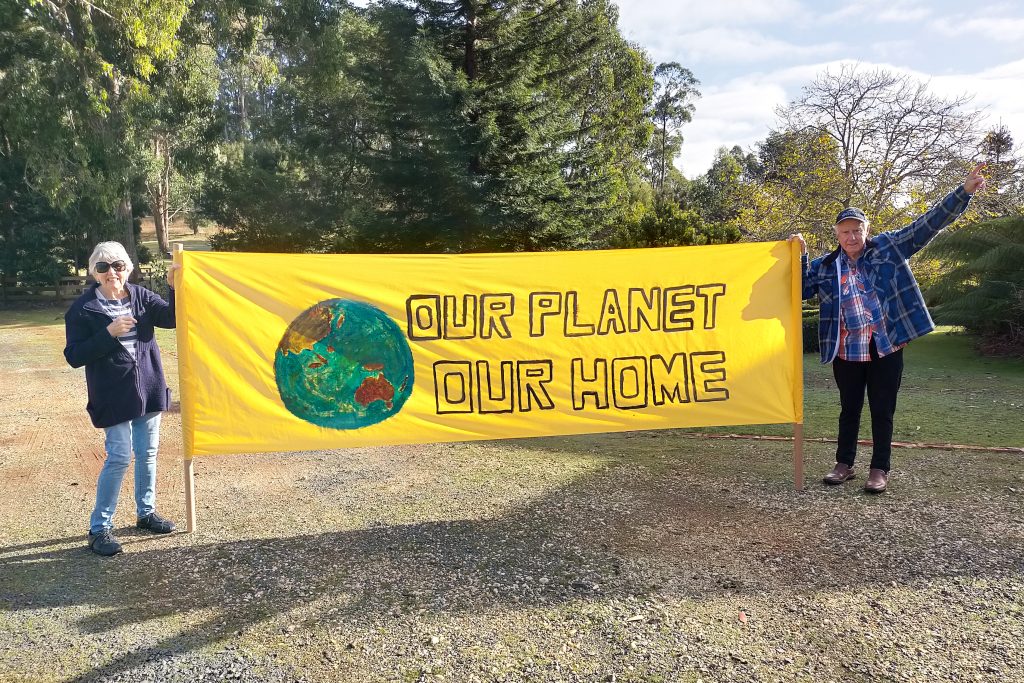 Trish and Vin Hindmarsh – Eco-Heroes Profile
Caring for Earth and finding a sense of the sacred in all things are concepts dear to our Eco-Heroes of the month – Trish and Vin Hindmarsh.
"This beautiful green, blue and brown planet we call our common home has been shaping my life and learning since I was a small 'free range' kid, spending my early most impressionable years in Burnie, Tasmania," says Trish Hindmarsh.
"My siblings and I sensed awe and wonder as we ran free along the beach. Exploring the thick bush beyond our back yard and lighting small camp fires to cook our pretend meals taught us the value of silence, the calls of the birds and a duty of care for nature, including our own self-preservation, as we tested new limits of climbing, diving, wandering and observing."
Vin and Trish Hindmarsh are great examples of 'I CAN, I WILL' and committed eco-heroes.
Trish is a retired teacher, and Vin a community worker. Both share a life-long commitment to human development. Opening up a 'sense of the sacred' through spirituality was always important to them, and has been expressed in their commitment to justice, peace and the integrity of Creation.
Vin explains, "I experienced first-hand through my years working with Church communities in the Philippines how people living subsistence lives were profoundly impacted by illegal logging in the mountains and dragnet trawling in coastal fishing communities. These illegal practices led to the destruction of fishing habitats, species extinction, landslides, depletion of topsoil and greater poverty for people already struggling to feed their families."
As a teacher and educational leader, Trish is passionate about integral learning. "Whether teaching or studying the physical and social sciences, maths, language, the arts, or religion and philosophy, all pathways to learning are carriers of the Good News that we humans are called to receive with gratitude, to cherish and work with, the gifts of Creation God gives us."
"Every personality type and career pathway, every human vocation and achievement, is a means to this end – to building the Kingdom of God on Earth through love of God, love of one another and love of all Creation. It is as simple and sublime as that."
Since retirement, Vin and Trish have been busy responding to invitations and requests to plan and deliver seminars, rituals, convocations, conferences, publications and opportunities for discernment related to the Church's Mission, including its commitment to 'ecological conversion' and the implementation of Laudato Si' and now Laudate Deum.
"We've collaborated with parishes, schools, dioceses, Catholic Earthcare Australia, BBI-TAITE, the St Vincent de Paul Society, Women and the Australian Church (WATAC), Concerned Catholics Tasmania (CCT), the Sisters of Saint Joseph, and the Australasian Coalition for Catholic Church Reform," says Vin.
As a member of the Writing Group for the Plenary Council addressing the theme 'Conversion', Trish believes she was able to encourage a holistic approach that reached beyond individual to communal conversion. "As a result, the concept of ecological conversion was written into the Plenary documents, and recognised as being at the heart of Christian Baptismal commitment."
To support the implementation of Laudato Si', Garratt Publishing invited Trish to write an accessible Reader's Guide to the encyclical, published in 2015, followed by a user-friendly, illustrated study guide to Ecological Spirituality, published in 2022. She is currently working towards a friendly guide to introduce Laudate Deum.
Vin and Trish's home is among the trees of northwest Tasmania, and provides a source of peace and contemplation as well as daily toil – growing, digging, shaping and caring for country that was inhabited by the Palawa tribes of North West Tasmania (lutruwita).
"We have solar panels, tanks to collect rainwater, composting bins and sort our household rubbish for recycling wherever possible", says Vin. "We volunteer with Vinnies each week, and take pride in knowing that the Society was one of the first Catholic organisations responding to the call of Pope Francis to develop a Laudato Si' Action Plan.
"Vinnies' second-hand shops and our recycling centre, Vincent Industries, on the North West Coast make a valuable contribution to the circular economy as well as serving people in need through the provision of affordable goods and gainful employment.
"We are far from being models of sustainability, with air travel to visit family members part of our regular lives and constant dependence on our car to get to and from town, but we do try to keep our environmental footprint as creatively reduced as we can. We like to attend the annual Schools for Climate rallies, proud to stand with the courageous students who organise them."
The couple's daughter, also a teacher, loves the natural world and believes every child deserves to experience earth, sea, rivers, sky and all living creatures 'up close and personal'. So, she has founded a flourishing Bush School, Back to the Wild Kids, and runs outdoor classes with multi-faceted hands-on experiences, in Parramatta Park, Granville community garden or at other venues in the Blue Mountains or on nature reserves around Sydney.
"Vin and I are proud of her achievements and believe whole-heartedly in her educational approach, paving the way to a better more sustainable future, one child at a time", continues Trish.
"We join these classes as often as we can when in Sydney, perhaps helping to set up the 'Mud Kitchen', or another activity, to share the delight of both the children and their parents as they find joy in the wonders of Mother Earth. We are all called to bring our unique gifts and energies, within the particular contexts and stages of our lives, to the sacred task of Caring for our Common Home."