September 5, 2019
Find happiness in making others happy.
The talents of wonderful Josephite students from six high schools across New South Wales were shared on Friday 30 August in the first-ever Josephites Got Talent.
It was an epic display of the Josephite community and charism, as well as the immensely-talented youth! Holy Spirit Lakemba was so generous to host the event in their auditorium, which served as the perfect location for performers, Josephite sisters, teachers, principals, family and friends to join together and watch the many acts of the night.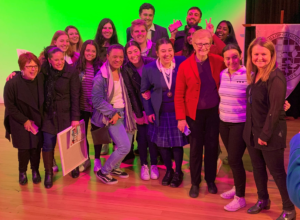 Masters of Ceremony, Emmanuel Garley and Jessika Lembryk, had the crowd dancing and laughing, and made for a truly fun night. Every single act of the night was inarguably astounding. From piano solos and dance troupes to singers and cultural dancers, it seemed to everyone that the judges had an incredibly tough decision ahead of them. The conclusion was made, and a just one at that, that every single school would receive a trophy.
Social Justice Awards were also awarded to six students, one from each respective school. The award recipients include Jackson Lantry, Maya T-Vega, Christiane Nakhle, Laura Mercer and Joelle Sassine. These students were acknowledged for their consistent dedication to social justice within their school and wider community, and a true embodiment of the Josephite spirit.
The night was an incredible opportunity for forming new friendships, learning about other cultures, and appreciating the wide variety of talents these students are blessed with. Such positive community events are a shining beacon of the Josephite legacy and are an example of how much good can come into the world from spreading happiness, joy and love with everyone we encounter.
Thank you to everyone who was involved in the organisation and coordination of the event, and to all six schools:
Holy Spirit Catholic College, Lakemba
Mount St Joseph, Milperra
Holy Spirit College, Bellambi
St Joseph's Catholic College, East Gosford
Mary MacKillop Catholic College, Wakeley
MacKillop Catholic College, Warnervale.
Mikaela Jago
Year 11 Student
Mount St Joseph, Milperra