May 27, 2021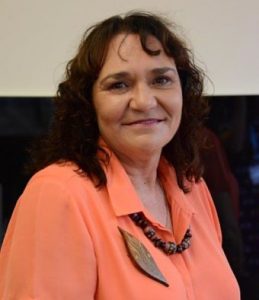 Sherry Balcombe has a background in Aboriginal welfare, with six years at the Victoria Aboriginal Child Care Agency in Victoria and seventeen years at the Aboriginal Catholic Ministry of the Catholic Archdiocese of Melbourne, six years of which she has spent as its Co-ordinator. She is a Western Yalanji, Djabaguy/Okola woman from Far North Queensland who was born on Wurrundjeri Country in Melbourne, Victoria.
I first encountered the Aboriginal Catholic Ministry through the Opening the Doors Foundation. I was seeking tutoring for my children at the time and it was the first time my family and I had any support.
To show gratitude, I rang the Aboriginal Catholic Ministry to thank them and then they offered me a job. Although I couldn't accept at the time as my children were too little, later I was able to accept. The Aboriginal Catholic Ministry were able to be flexible and so all the reasons not to work were taken out of the way.
My role as Co-ordinator consists of bringing awareness and educating about Aboriginal Peoples. I work with schools and groups including the Opening the Doors Foundation and the Sisters of Saint Joseph. I educate on the areas of Australian Aboriginal history, Aboriginal spirituality, and Aboriginal injustice.
Reconciliation to me means coming together and for the Aboriginal community to take their rightful place, to ask to be recognised as the First Peoples and to be respected for that. It also means for the Aboriginal community to be involved in all levels and to have a voice in their own country. Now it feels like we're only tolerated.
The Aboriginal community have so much to share, but I suppose Aboriginal battlers are scared because of what's happened in the past. However, we are getting stronger now, but it has taken a long time.
I think Australia is taking the right steps on Reconciliation, but it needs to go a bit further. The first step was the National Apology in 2008 and not a lot has happened since then.
It is a shame that the Australian government doesn't own the Aboriginal flag. The flag symbolises Australia's identity and sense of belonging, and to not have the flag owned by the government is embarrassing. The flag should belong to Australia.
However, I do see signs of life and hope in the children I educate – they inspire me. The next generation are going to change things for us and the world. They're not like my generation. They are global children now and they get it, as expressed in movements like the Black Lives Matter march. There is more awareness of issues and I think it's because of social media. They are seeing things that normally wouldn't be seen.
During Reconciliation Week it would be great for people to educate themselves, as education and knowledge are power. People who learn a few things can help us all on the journey, and we can go together.
If I can inspire those who I encounter to hear with different ears and listen with a different heart, then I have done my job.