December 14, 2020
Have you ever thought of St Joseph as a creatively courageous father?
That is how Pope Francis described Joseph as he announced a Year of St Joseph (8 December 2020 – 8 December 2021) in honour of the 150th anniversary of Saint Joseph being named as patron of the Universal Church.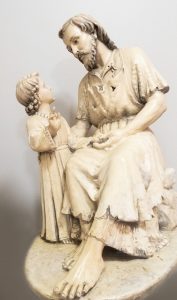 Having celebrated the 10th anniversary of Mary MacKillop's canonisation with the theme of "Take fresh Courage" we are now invited by Pope Francis to reflect on and imitate the creative courage of St Joseph. Joseph was courageous in taking on the responsibility of becoming the husband of Mary and the legal father of Jesus and all that those two roles entailed. As we follow Joseph in the Gospel, we see how he could turn a difficulty into a possibility with his trust in the providence of God.
In his apostolic letter (8 December 2020), Pope Francis reflected on the qualities of Saint Joseph whom he described as a strong working man, a beloved, loving father, an accepting, obedient and "creatively courageous" person. The Pope wrote:​​​​​​​
In the Gospels, St Joseph appears as a strong and courageous man, a working man, yet in his heart we see great tenderness, which is not the virtue of the weak but rather a sign of strength of spirit and a capacity for concern, for compassion, for genuine openness to others, for love.
In the eyes of the Pope, Saint Joseph is an extraordinary person who epitomises our own experiences. By reflecting on Joseph's life, we can appreciate that God calls each of us to love freely, to accept our responsibility to welcome and serve others, to use and develop our gifts and talents, to appreciate the value and dignity of honest work, to overcome our challenges and become "courageously and firmly proactive" in our daily living.  A "respectful and sensitive man," Saint Joseph "did not look for shortcuts, but confronted reality with open eyes and accepted personal responsibility for it."
Pope Francis encourages each one of us to imitate Joseph's virtues and zeal as he urges us to:
Discover in Joseph — the man who goes unnoticed, a daily, discreet and hidden presence — an intercessor, a support and a guide.
Pope Francis concluded his letter with this prayer:
Hail, Guardian of the Redeemer,
Spouse of the Blessed Virgin Mary.
To you God entrusted his only Son;
in you Mary placed her trust;
with you Christ became man.
Blessed Joseph, to us too,
show yourself a father
and guide us in the path of life.
Obtain for us grace, mercy and courage,
and defend us from every evil.
Amen.
Sr Therese McGarry