May 7, 2019
On 2 February 1874, Father Julian Tenison Woods gave a lecture in Melbourne entitled How Australia was discovered and explored. A large number of people attended with Mr William Archer in the chair for the evening.
The following day an extensive summary of the lecture was published in the Melbourne Argus [i] and the article was repeated in the Brisbane Queenslander [ii] several weeks later.
The content of the lecture was from research that Father Julian had undertaken for his publication A History of the Discovery and Exploration of Australia: or an account of the progress of geographical discovery in that continent from the earliest period to the present day [iii] in 1865.
The lecture was very well received with Father Julian receiving much applause and a vote of thanks.
Reading through the summary of the lecture gives one an insight into the extensive knowledge that Father Julian must have had about Australia. To have written two volumes on the topic so early in his time in this new land indicates not only his own interest but also that of society at the time. Father Julian was a powerful speaker, his subject was fascinating and, by all accounts, a good evening was had by all.
It seems to me that the word discovery was very much part of Father Julian's life. He was enthusiastic about discovering more about whatever he came across, whether it be matters scientific, religious or historical. He must have read widely and been part of many absorbing conversations before he ever committed pen to paper to share his insights. It would have been good to have met him!
Carmel Jones rsj
---
This month we present a comprehensive summary of a lecture given by Fr Julian Tenison Woods on 2 February 1874 in Melbourne:
Download 'How Australia was Discovered and Explored' (PDF)
Footnotes:
[i] Argus (Melbourne, Vic. : 1848 – 1957), Tuesday 3 February 1874, page 6 obtained from http://nla.gov.au/nla.news-article5880794
[ii] Queenslander (Brisbane, Qld: 1866 – 1939), Saturday 21 February 1874, page 8 obtained from  https://trove.nla.gov.au/newspaper/article/18329683#
[iii] 'A History of the Discovery and Exploration of Australia: or an account of the progress of geographical discovery in that continent from the earliest period to the present day', with maps and portraits, London, 1865, 2 vols.
April 7, 2019
On 21 May 1887, the Sydney Morning Herald [i] published an article by Fr Julian Tenison Woods on his trip to the Victoria River.
This river (named for Queen Victoria) runs from the northern edge of the Tanami Desert to the coast near the Western Australian-Northern Territory border.
Father Julian obviously enjoyed his trip in 1886 and gives his readers historical and geological background about the river and careful descriptions of all he saw along the way. He describes the river as strangely impressing him, having a beauty of its own and that is high praise considering all the rivers he had travelled in his lifetime.
I was particularly taken by Father Julian's description of being on watch as the sun set and darkness fell. His words express such a vivid picture that I'm sure any reader with artistic skills could translate them into a painting.  Similarly inspiring are his words about the many shades of red in the rocks.
It is interesting to note that another description of a trip to the Victoria River was published in the Northern Territory Times and Gazette on 4 May 1889 [ii]. In this, Mr Alfred Searcy gives a very similar account of the dangers of navigating the river. Searcy travelled in the same boat with the same captain and mentions that Rev J E Tenison Woods had also done this trip.  He gives a great description of an eagle capturing one of the thousands of flying foxes roused out of the mangroves.
I haven't been to the Victoria River but, for those who have, it might be interesting to compare both of these descriptions with the experience of sailing along it today.
Carmel Jones rsj
---
This month, we present a third article written by Fr Julian featured in the Sydney Morning Herald on 21 May 1887:
Download 'A Trip to the Victoria River' (PDF)
Footnotes:
[i] Article: Sydney Morning Herald (NSW: 1842-1954) Saturday 21 May 1887 page 6 obtained from the National Library http://nla.gov.au/nla.news-article13660549
[ii] Article: Northern Territory Times and Gazette (Darwin, NT: 1873-1927) Saturday 4 May 1889, page 3 obtained from the National Library http://nla.gov.au/nla.news-article3314894
In the year 1866 Father Julian Woods, aided by Mary MacKillop, founded the Sisters of Saint Joseph in Penola, South Australia, for the Catholic Education of children from poor families. [1] But why did this busy priest working in one of the largest mission areas in the colony take this step?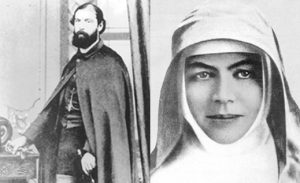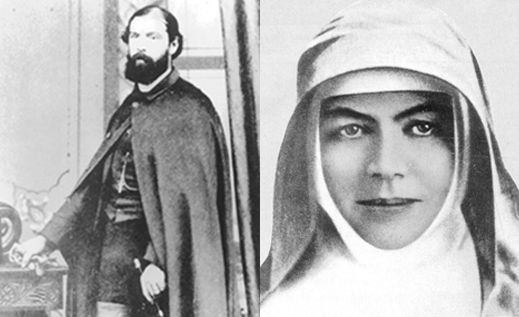 Firstly, South Australia was a free colony where settlers enjoyed religious and political freedom and where there was no government aid for religion. Instead, according to the so-called Voluntary System, members of each religious denomination had to build their places of worship, support their pastors and educate their children in their particular faith. Then, in 1851 the local Legislative Council had abolished all state aid to religion and established a state-controlled system of non-sectarian secular education. [2]
Secondly, in Australia, where Catholics were in a minority, the bishops were afraid that children attending government schools could be lost to the church because they had gained  the impression that one religion was as good as another. Consequently, the bishops pressured the clergy to provide separate schools for the catholic children.
Archbishop Polding of Sydney addressed this issue in his Lenten Pastoral of 1859 when he wrote:
We must not have the National Schools for our children. Why? Simply for this reason: that though our children must learn reading and writing and arithmetic, and history, and whatever else might be thought desirable, they must learn as Roman Catholic children learning these things, and this they cannot, unless they are constantly breathing the atmosphere of their religion. [3]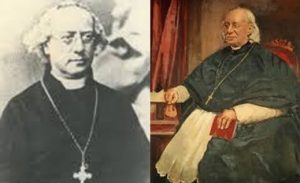 At about the same time, Father Patrick Geoghegan of Melbourne became second Bishop of Adelaide. Coming as he did from a colony where gold was being mined in significant quantities, where there were many fine buildings and where its sizeable Catholic population enjoyed the benefits of a well-established, government-supported Catholic school system, he was shocked at the poverty of his congregation, the smallness of their churches and the lack of catholic schools in the colony.
He was horrified when he learnt of the voluntary system and the Secular Education Act of 1851 and decided to take steps to remedy this situation for, as he saw it, the catholic children of South Australia were in danger of losing their faith. Therefore, he wrote a pastoral letter decrying the existing state system as being "a gigantic machinery for propagating Protestantism, and for disaffecting or proselytising the catholic children unhappily coming within its influence from the religion of their parents." Then, after having copied large sections of Polding's letter, he told his people that they must in conscience denounce the government schools:
First—Because they [were] proselytising schools in the hands of the Government.
Secondly—Because in [their] poverty and sad want of schools of [their] own, they [were] bribes and temptations held out to [their] children.
Thirdly—Because Catholics [were being] taxed to pay an odious tithe for the suport of the system.
He concluded:
Remember that the work is God's—the most precious in his sight—that he has left us to do, and that it will bear delay no longer. Let us begin it, for God's sake. Wherever there is a Pastor and a Flock we implore you to make a commencement of a Catholic school. Let each do what he can. [4]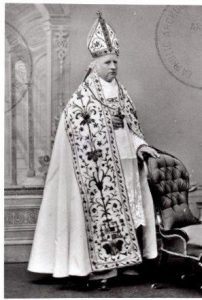 When Julian Woods of Penola received this letter he tried, albeit unsuccessfully, to get properly trained teachers for his area. Then he recalled the memory of the Sisters of St Joseph whom he had met in France and decided that he needed Sisters like them to manage his schools. Eventually, it became clear to him that the only real solution for his problem was for him to found a new religious order there in Penola.
While he was praying and deliberating over his problem, young Mary MacKillop arrived in the district to work as a governess for her uncle's children. For some years she had felt called to be a religious, but, at the time, was committed to the support of her family. She confided in Fr Woods and, as soon as she could leave the family, she agreed to become one of the first Sisters of St Joseph. [5]
Thus, it is clear that Father Woods founded the Congregation in response to his bishop's command. In fact, while Bishop Geoghegan laid the groundwork for the foundation, it was his successor, Bishop Lawrence Sheil, who confirmed the idea when he appointed Woods as Director of Catholic Education for South Australia and subsequently approved the Sisters of Saint Joseph as a diocesan congregation in 1868.
Sr Marie Foale
Footnotes:
[1] End of Institute as expressed in the Sisters' first Rule of Life, as written by Julian. He entitled it: Rules of the Institute of St Joseph for the Catholic Education of Poor Children. According to his Memoirs, he wrote this in May 1867. Bishop Sheil approved it in December 1868 & he had it printed by a local printer.
[2] South Australian Statutes, no. 20 of 1851
[3] Patrick & Deirdre O'Farrell, Documents in Australian Catholic History, Volume 1: 1788-1884, Chapman, London, 1969, "Pastoral Letter of John Bede Polding on the subject of Public Education, 1859" p. 209.
[4] Geoghegan, Pastoral Letter of Patrick Bonaventure, by Divine Grace and Favour of the Apostolic See, Bishop of Adelaide, to the Clergy and Laity of the Diocese, on the Education of Catholic Children, Adelaide, 1860
[5] Mary wrote to Bishop Sheil, 10 September 1871, "The way in which he described their wants so completely agreed with all my previous desires, that when he asked me whether (provided he got the Bishop's consent to commence an Institute to meet these wants) I would remain and become one of his first children in the flock, I joyfully consented."