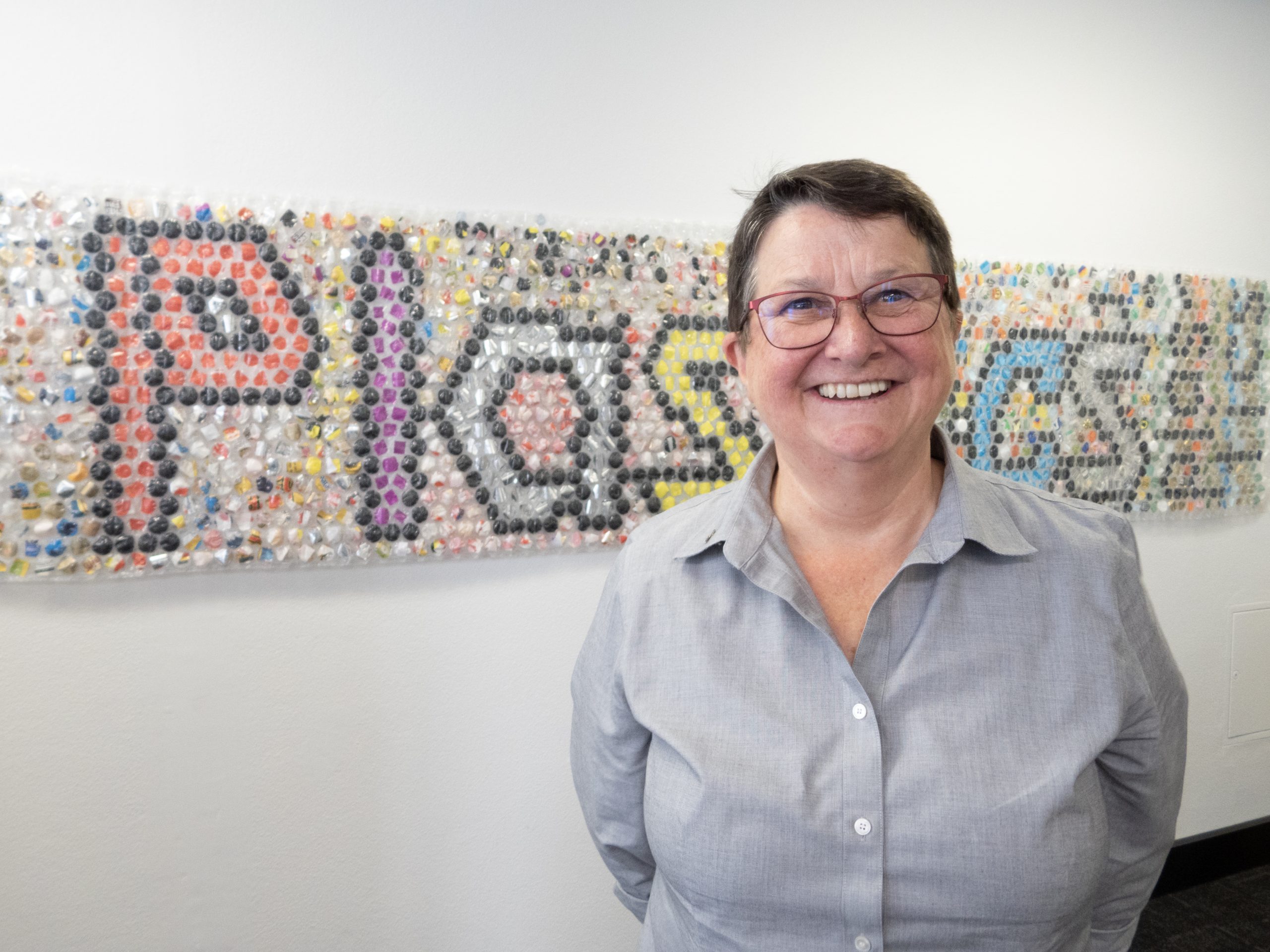 The Sisters of Saint Joseph of the Sacred Heart and Sisters of St Joseph Lochinvar present the next stage of their Explore~Embrace~Embody Laudato Si' Action Plan– a focus on Soft Plastics – raising awareness and inspiring action to reduce the use of soft plastics and advocate for better recycling at an individual, local, state and national level.
The Soft Plastics campaign is a shared Josephite endeavour and is being promoted through a series of eight topics every month – this month we focus on P for PLASTICS PARALYSIS!
Open the P – PLASTICS PARALYSIS tab below to view tips on how to avoid living in a plastics paralysis, plus ideas for Community Action; a Call to Advocacy; a Contemplative Reflection and a Recycling Directory.
P  -  Plastics Paralysis
This month we jump into our first letter of focus: P for PLASTICS PARALYSIS!
Earth is in soft plastics paralysis.
Soft plastics are the kind which can be scrunched into a ball – food wrappers, frozen food bags, chip packets, biscuit packets, snap-lock bags, bubble wrap, plastic shopping bags and newspaper wraps.
Why is this a problem?
Single use soft plastics are an environmental disaster.
Every minute one truckload of plastics is dumped into the ocean where they break down into microplastics. More than FIVE TRILLION pieces of plastic are already floating in our oceans.* By 2050, virtually every seabird species on the planet will be eating plastic.
Worldwide, 73 percent of beach litter is plastic, filters from cigarette butts, bottles, bottle caps, food wrappers, grocery bags and polystyrene containers. Every minute TWO million plastics bags are used. On average each bag is used for 12 minutes. Every minute ONE million plastic bottles are purchased.
Over 500 billion take-away hot beverage cups are discarded annually.
The largest market for plastics is packaging materials – that rubbish now accounts for nearly half of all plastic waste generated globally – most of it never gets recycled or incinerated. *10 Shocking Facts About Plastic | National Geographic
This problem engulfs Earth – every waterway, every habitat, every species and ultimately every food-chain. It is problem of human-making, one which disproportionately effects the lives of those who are made poor.
Each of us has the capacity to be that one person to restore hope – will you be that someone?
So what can I do?
Let's start with Everyday Gestures… Refuse plastics bags, take your own reusable bags when shopping. It's great to see major Australian grocery chains phasing out the use of lightweight shopping plastic bags in their stores.
Swap out plastic foodwrap for beeswax wraps or reusable containers. Don't buy fruit and vegetables wrapped in plastic. Buy items with less plastic packaging.
Switch to a reusable coffee cup.
Use bar soap rather than liquid soap. Liquid soap requires FIVE times as much energy to make and 20 times as much energy to package compared to bar soap.
Before throwing something out, consider if it can be recycled or used by someone else. Seek out eco-friendly products and services – purchase consciously.
Advocate for Change!
Write to your Local Council and/or local Minister – many Councils have teamed up with Recycle Smart, TerraCycle and Curby to collect soft plastics and other tricky-to-recycle items.
Request unwrapped produce, meats and bakery items at your supermarket. Request the Australian Government to sponsor and fund research and development into efficient soft plastic recycling.
Consider joining or supporting organisations which work in this area. Many such organisations have online petitions which can be signed like Earthday.org's petition to end plastic pollution – End Plastic Pollution – Earth Day
Refer to Explore~Embrace~Embody: A Laudato Si' Action Plan for the Josephite Community for more ideas and inspiration.
Sample Soft Plastics Advocacy Letter (doc)
---
Recycling Directory
The Sisters of Saint Joseph have compiled a Recycling Directory which identifies ways and locations for the recycling of items across Australia here.
Is there something we've missed? We encourage each state and territory to add local recycling information. Email communications@sosj.org.au and we will add the recycling option to the Directory.
---
Take Time to Reflect – access a spiritual reflection sheet which guides you to pause and consider your use of soft plastics and ideas to change here. Share with family and friends to start a conversation.
Pray for the waste pickers – Fiji becomes first Pacific nation to recognise waste pickers as the world's invisible environmentalists fight to be seen – ABC News
---
Prayer 
The Josephite community is invited to come together; to come alive; to overcome the urge to keep saying "Our bones are dry, our hope is gone, and we are doomed" (Ezekiel 37).
To explore, embrace and embody Pope Francis' invitation "to all men and women of good will" (#3).
Let's explore an alternative understanding of the quality of life, embrace the prophetic and the contemplative, embody a lifestyle capable of deep enjoyment free of obsessions with consumerism (#222 adapted).
Creator God, you walk with us on our journey. Open us to see the revelation of your presence in all of creation that we may safeguard and protect the beauty of Earth. We ask this in the name of your Son, who taught us about the sacredness and interconnectedness of all of life, Jesus Christ. Amen. 
L  -  Lightbulb Moments
To be added in June 2023.
A  -  Asking for Change
To be added in July 2023.
S  -  Shopping Tips
To be added in August 2023.
T  -  Taking Action
To be added in September 2023.
I  -  I Can, I Will
To be added in October 2023.
C  -  Changing Habits
To be added in November 2023.
S  -  Showing Off
To be added in December 2023.